Well, let's be honest—in today's constantly evolving world, simply having an e-commerce website isn't enough to run a successful online business.
Since the eCommerce industry is full of strong competitors, you must get the most out of it by using various integration options, such as shipping and fulfillment software, CRM platforms, SMM tools, etc.
Look, it's crucial to rock the best eCommerce integration software and make sure it all perfectly works together.
In this article, we've put together the 10 best eCommerce integrations for your online business to make it second to none.
---
1. Social Media Integrations


If you wanna be in the same hangout spot as your customers, you need to hit up social media. Like, seriously, two-thirds of all Americans are spending quality time on social media platforms every single day. And what about the rest of the world? That's definitely where the party's at! Such website integration is a perfect place for your business to listen, chat, influence, and solve problems for your clients.
Integrating your social media management software with your other marketing and e-commerce tools is a total game-changer. It automates your communications, saves you tons of time, and keeps your brand messaging on point. Facebook, Instagram, and Pinterest can help you reach a wider audience and drive more sales.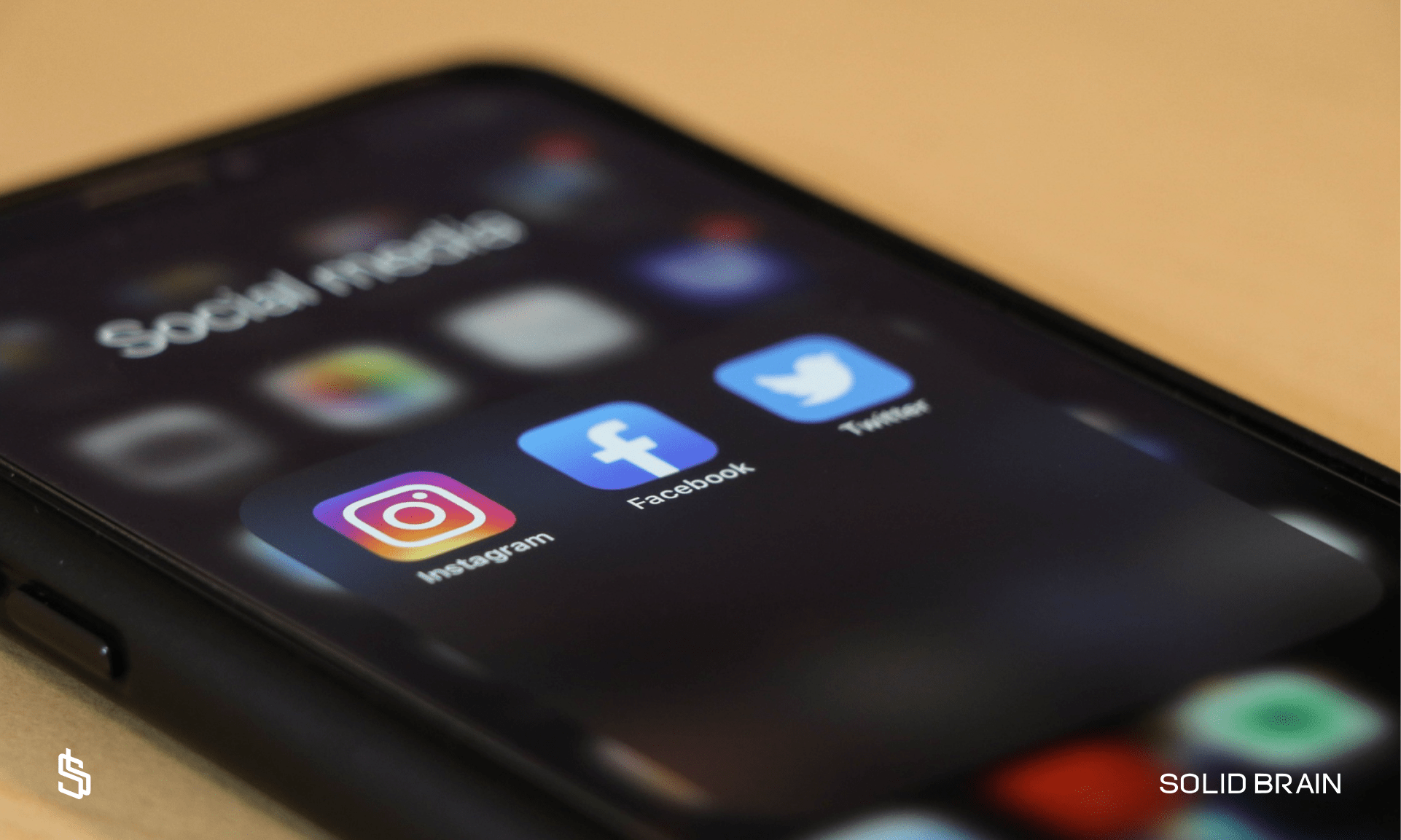 2. Shipping and Fulfillment Integrations
Shipping becomes a make-it-or-break-it factor when your online business grows. For example, you can pay closer attention to such e-commerce integration platforms, as ShipStation and ShipBob. They integrate with your e-commerce platform to streamline shipping and order fulfillment processes, ensuring timely and efficient delivery of physical products to your clients.
And keep in mind that shoppers are all about that speedy shipping options, plus usually they want it to be free or at least discounted. Let's be honest again—nobody likes getting smacked with surprise shipping fees at checkout, which is why so many online stores suffer from abandoned shopping carts.
That's why shipping and fulfillment integrated e-commerce solutions are here to save the day. They automate all the boring shipping stuff, such as comparing rates from different providers, packing slips, printing labels, and keeping tabs on shipments. With these e-commerce integrations, you can say those manual errors goodbye and give your customers the shipping options they thirst for.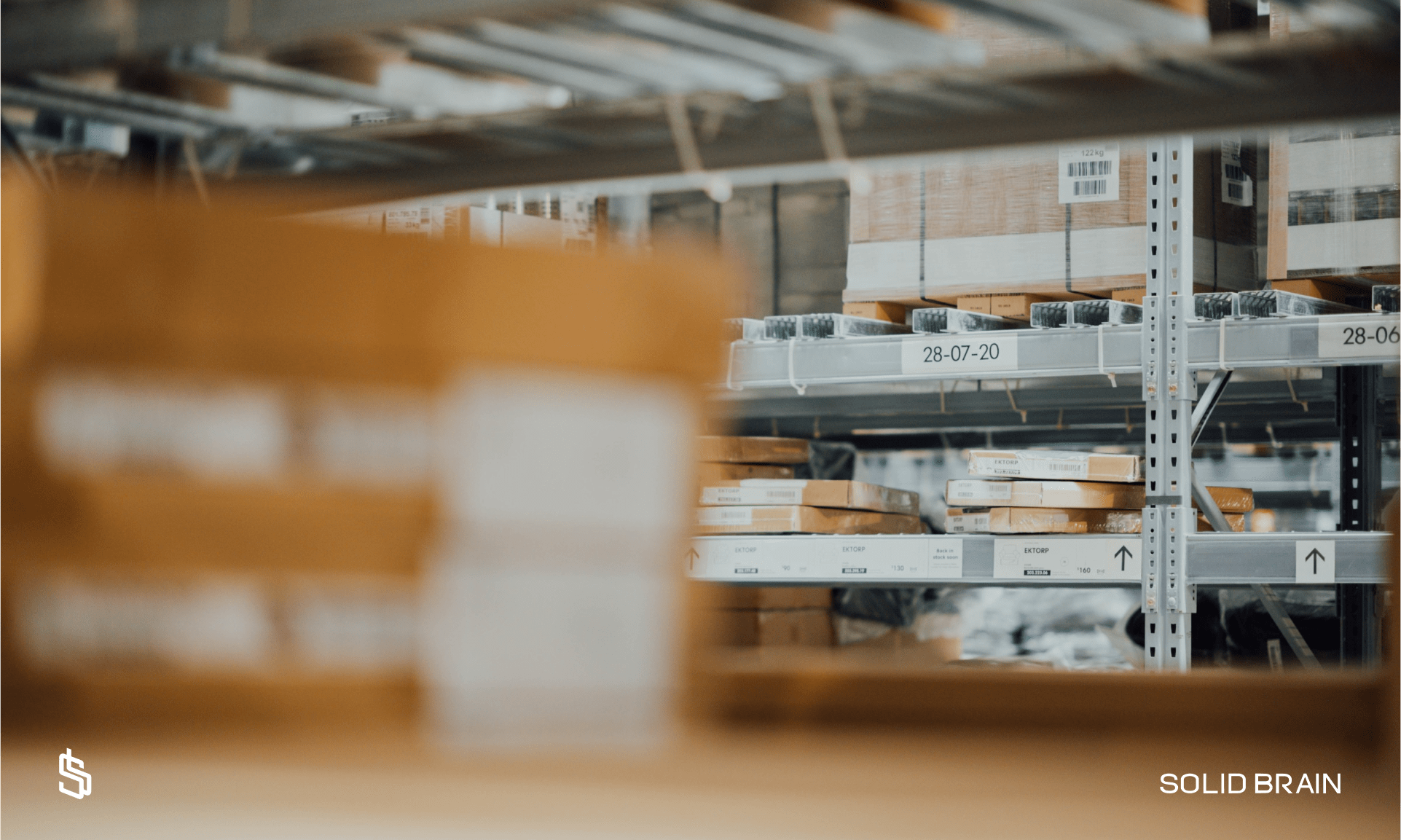 3. Accounting Integrations
When it comes to running your business, you have to get serious about your accounting things. Think of eCommerce accounting software as your secret weapon for keeping your finances on point and avoiding any messy mix-ups.
For instance, integrating an eCommerce store with accounting software such as QuickBooks or Xero helps you manage finances, track expenses, and generate accurate financial reports.
With this software, you can confidently say goodbye to tedious bookkeeping tasks. Let the software handle the heavy lifting and speed up those processes.
4. Customer Support Integrations
Live chat and chatbot integrations are the ones you shouldn't neglect if you want to succeed. Customer service and customer satisfaction are the names of the game when it comes to keeping shoppers hooked on your store. You always have to be there for them, ready to tackle their questions, concerns, or complaints with lightning-fast responses.
And here's a tip: make sure all your customer support channels, like live chat, help desk, and chatbots are integrated with your e-commerce solution. It's a game-changer: you can automate the common questions and responses, serving multiple clients at once.
5. Payment Getaway Integrations
When it comes to payment methods, you want your clients to have the smoothest and most secure experience possible during checkout, don't you?
There are a couple of ways to integrate a payment gateway. One option is to redirect your clients to a payment processor's website. But wait, here's the deal, we recommend integrating that bad boy directly into your site. Why? Because it keeps your customers right where they need to be—on your site. They won't have to bounce around and can finish their purchase with no hassle.
Now, let's look at the top choices for payment gateway solutions:
Stripe: It's the rock star of payment gateways. It's secure, reliable, and offers a super smooth experience for your customers.



PayPal: You've heard of it, right? It's a classic. Everyone knows and trusts PayPal. This integrating option will give your customers peace of mind during checkout.



Authorize.net: It's been in the game for a while. While offering solid payment processing solutions, it can make your checkout process a breeze.
6. E-commerce website builder
We should have probably started from this point but well… Let's go on—an online store builder! With it, you don't need to know any programming or design stuff to create a professional-looking website. And the sweetest part? These builders come loaded with features and apps to help you run your online business like a boss.
Now, let us drop some names of the best website builders for e-commerce companies:
Shopify: This platform is a legend in the game. It's got everything you need to launch and manage your online store, from shopping carts to inventory management, payment processing, and even shipping tools. It's super user-friendly, even for beginners.



BigCommerce: These guys mean business when it comes to e-commerce. They've got all the bells and whistles to make your store shine. With built-in shopping carts, payment processing, and inventory management, they've got you covered.



Volusion: If you're new to the game and want a platform that's easy to use, Volusion is your go-to option. They've got all the tools you need to get your online store up and run it smoothly.
7. Loyalty Program Integrations
Integrations like Smile.io or LoyaltyLion are the real deal. They let you create and manage customer loyalty programs that'll blow your customers' minds. Rewards, points, VIP treatment—these programs are all about encouraging repeat purchases and building customer loyalty.
With loyalty program integrations, you can show your clients some serious love and keep them hooked on your brand and your dedicated e-commerce platform. It's all about giving them that extra incentive to keep coming back for more and becoming your biggest fans.
8. Email Marketing Integrations
Platforms like Mailchimp, Klaviyo, or Constant Contact may pique your interest if you want to do email marketing integration to your website.
An email address is like a golden ticket; it's how businesses uniquely identify their customers. And when it comes to order confirmations, promotions, discount codes, and keeping your customer base in the loop about your updates, email is where it's at. It's the go-to channel, no doubt about it.
When you deploy email integrations on your website, you can collect email addresses from visitors just by checking things out. That means you can follow up with them and entice them to become your loyal customers.
9. Customer Reviews and Rating Integrations


By integrating with review platforms like Yotpo or Trustpilot, you give your peeps a voice. They can leave their honest feedback and ratings about the experience with your online store. These reviews go a long way in building trust with potential customers. After all, people love hearing what others have to say before making a purchase.
What's more, such integrations help improve product quality. Wondering how? By analyzing the reviews, you can:


gather information to improve your products or services;

identify patterns in customer feedback to identify areas for improvement;

make informed business decisions;

improve the overall quality of your offerings.
10. CRM management

Last but not least is a customer relationship management system integration. Such systems are designed to help you understand your shoppers by leveraging their customer data, allowing you to enhance the value of your relationships.
CRM systems enable you to track and analyze the personal information and interactions of your clients. This data is invaluable in targeting customers based on their past behavior, fostering customer loyalty, and identifying trends.
With all this knowledge in your arsenal, you can create customized offers that'll make your customers go wild and drive sales through the roof. It's like having a personal connection with every one of your customers.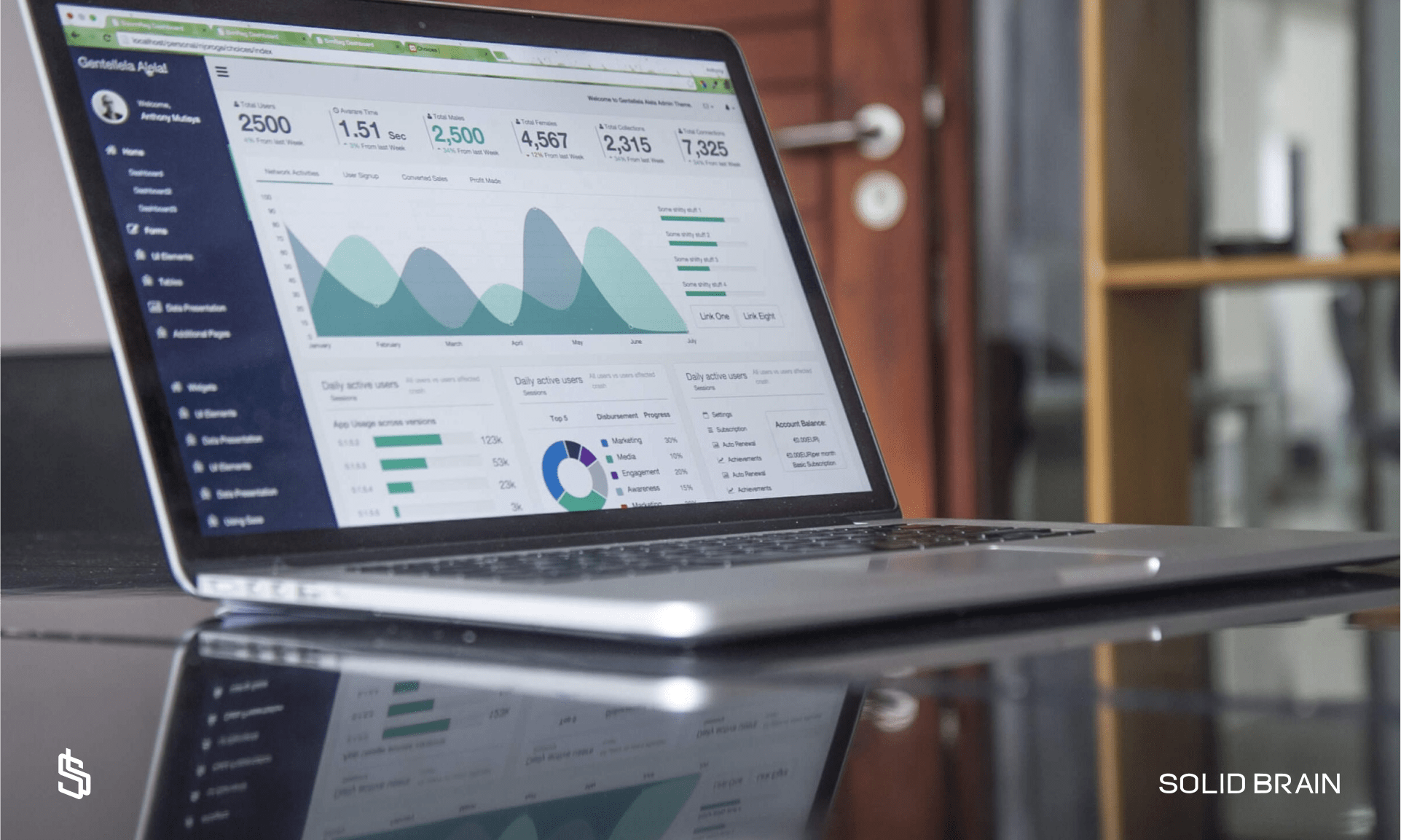 What is an
eСommerce integration
?
To put it simply, e-commerce integration is the ever-evolving process of connecting and synchronizing various software applications, systems, or platforms with your online store; it's the coordination between your e-commerce website and its back-end systems.
Its goal is to enable data and information to flow seamlessly between these systems, allowing for efficient and automated processes. By applying different integrations, you can save lots of time on workflows, improve data accuracy, reduce manual tasks, enhance customer experiences, and ultimately drive your business growth.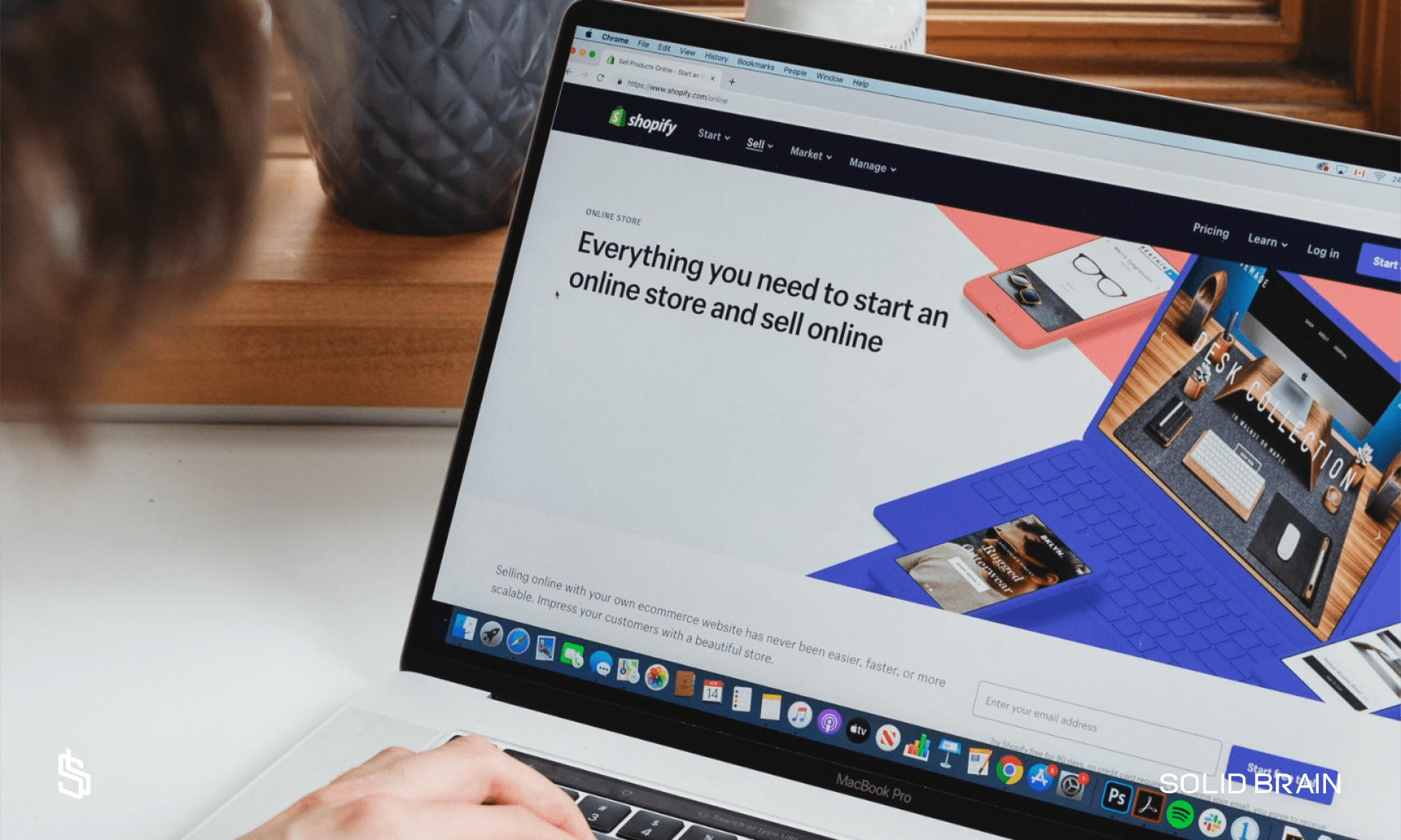 How the best
eCommerce integrations
benefit your online store
Well, we've established what eCommerce integrations are and what are their main functions. With them, you can automate processes, save precious time, and avoid pesky errors.
It's like having a team of tech-savvy wizards working behind the scenes to make everything run like a well-oiled machine.
Now, let's take a closer look at the key features and the best benefits you can reap: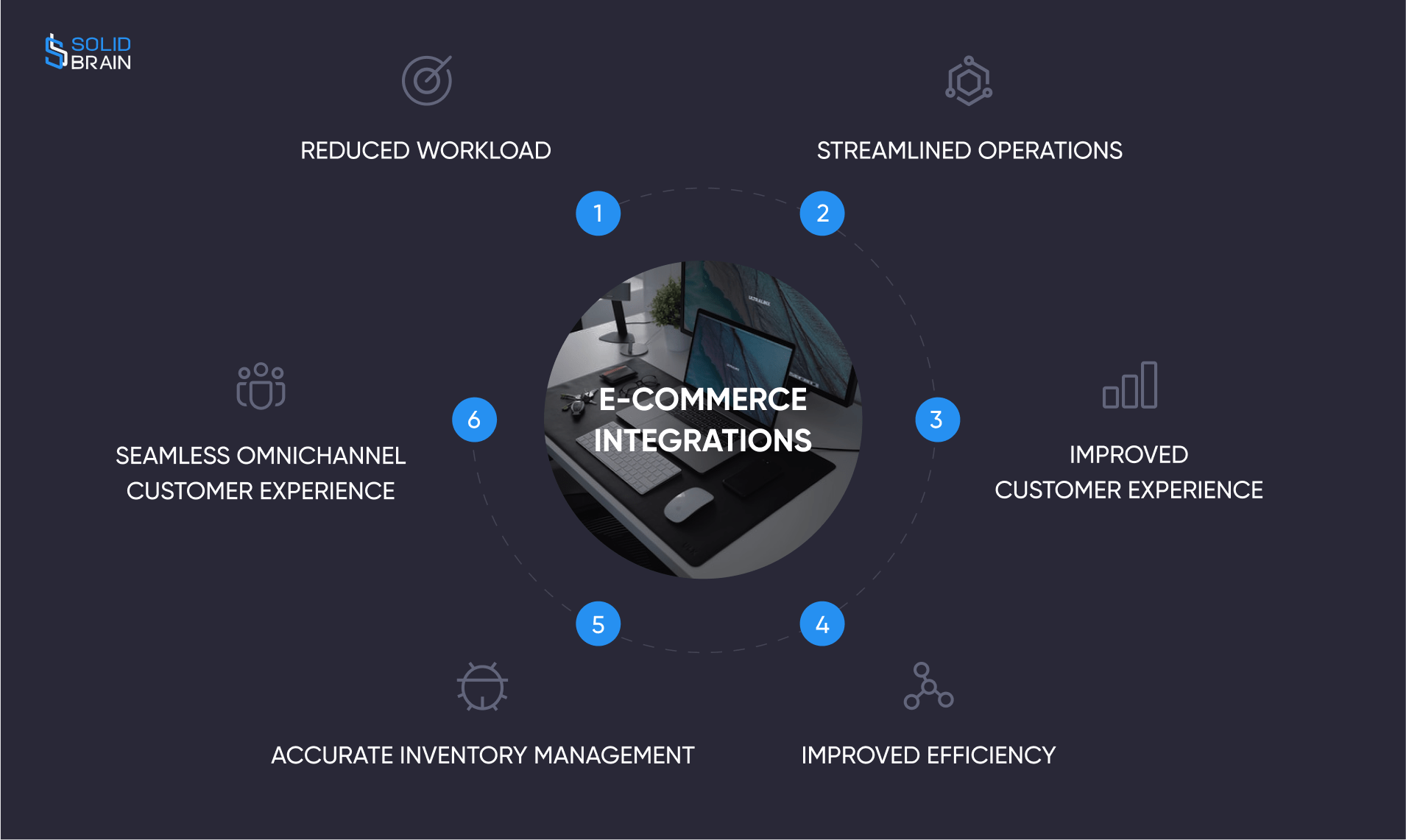 Reduced workload
By implementing the right eCommerce integrations, you can enjoy the benefits of automatic data synchronization and updates across multiple platforms. This, in turn, means you can reduce the need for tedious manual inputs.
Believe us, your employees will be on cloud nine since ​​integrating various platforms into one central system eliminates the need for them to handle customer interactions from multiple places.
What's more, your clients will also experience a more convenient shopping experience. For example, if a person needs additional information about your products, integrations enable them to easily contact your customer support team directly from the website page.
Streamlined operations
As we mentioned before, eCommerce website integrations are all about automation. They streamline your operations, reduce manual tasks, and wipe out the need for duplicate data entry. What do you get as a result? Saved time, effort, and a chance to focus on more important aspects of your business.
That's a win-win situation, no doubts here.
Improved customer experience
E-commerce integrations pave the way for an exceptional customer journey. By connecting your systems, you can deliver a seamless and personalized experience leaving a lasting impression on your customer service.
Let's look at real-time inventory updates. With them, shoppers can see accurate product availability, reducing the chances of frustration of purchasing items that are out of stock. And what about automated order confirmations? They keep the clients informed about their purchase status, providing peace of mind and building trust in your brand.
Improved efficiency
By streamlining processes and reducing repetitive tasks, eCommerce integrations free up valuable time and resources. Now, your team can focus on more important aspects of your business, such as strategic planning, growth initiatives, and customer engagement.
Supercharged efficiency = smoother operations, increased productivity, and faster response times. With the right information at your disposal, you can take action quickly and stay ahead of the competitors.
Accurate inventory management
To stay away from backorders, overselling, and discrepancies between online availability and actual stock, you need to have real-time inventory updates. Integration between your website and inventory management system perfectly helps you with this aspect of running the online business.
Gone are the days of manually juggling inventory spreadsheets and risking errors. With integrated inventory management, you get a clearer view of your stock levels, allowing you to boost your fulfillment processes and procurement.
The result? A high-powered inventory management system that minimizes fulfillment issues, keeps your shoppers happy, and maximizes customer satisfaction.
Seamless omnichannel customer experience
With the help of eCommerce integration software, you can offer seamless customer service across multiple platforms—online chat from mobile devices, email, social media platforms, and more. By connecting all your customer service channels, you create an integrated experience allowing people to reach out through their preferred communication method.
The beauty of these integrations lies in their ability to streamline your customer support efforts. No more bouncing between platforms or missing important messages. Stay connected all the time on your all-in-one e-commerce platform.
Best eCommerce software integrations for your business
There're hundreds of useful eCommerce integration software, and it would be unfair to choose the best ones without testing all of them.
Still, let's take a look at the most popular ones which have the best reviews on different platforms.
1. Bloomreach


Bloomreach is a cloud-based e-commerce experience platform and B2B service that empowers you to create personalized, real-time marketing campaigns that deliver amazing results.
2. Triple Whale
Triple Whale is a game-changer for Shopify store owners, offering a comprehensive platform that consolidates all their analytics in one place. With this powerful tool, store owners can take their conversion numbers to new heights and gain invaluable insights into their marketing campaigns.
3. Adobe Commerce
Adobe Commerce revolutionizes the way you shop and make purchases, bringing a personalized touch to every step of the process. With its powerful capabilities, it creates tailored promotions, offers seamless omnichannel fulfillment options, and provides self-service convenience on a grand scale.
4. A2X
A2X is a handy connector app that bridges the gap between your sales channels and accounting software. It simplifies and streamlines the process of reconciling your settlements by loading them and presenting them in organized journal summaries; A2X automates eCommerce accounting for Shopify, Etsy, Amazon, Walmart eBay, and BigCommerce sellers.
5. Dataddo
Dataddo is an innovative cloud-based platform that takes data integration, automation, and transformation to a whole new level. With Dataddo, you can easily connect different cloud-based applications, data warehouses, dashboarding tools, and data lakes, all without needing to write a line of code.
Top eCommerce Platforms
To start your online business, you need to choose the right eCommerce platform among lots of different options. It can be an overwhelming process so you have to answer these three questions:
Is it what you need?

Is it worth the extra costs (for instance, additional transaction fees or a custom domain) you might need to pay for using it?

Does it meet your needs and goals?
Also, you should evaluate your budget, the products or services you will offer, your team headcount, etc.
Here're our personal top 3 e-commerce platforms to test:
1. Shopify (of course!)


Shopify is a global powerhouse when it comes to eCommerce platforms. With over 4.12 million e-commerce sites built on it, it has become a go-to choice for selling products online. And it's no wonder why.
Shopify is simple, user-friendly, and fast. Plus, it has customizable templates and a wealth of additional features and functionalities that help businesses scale and succeed.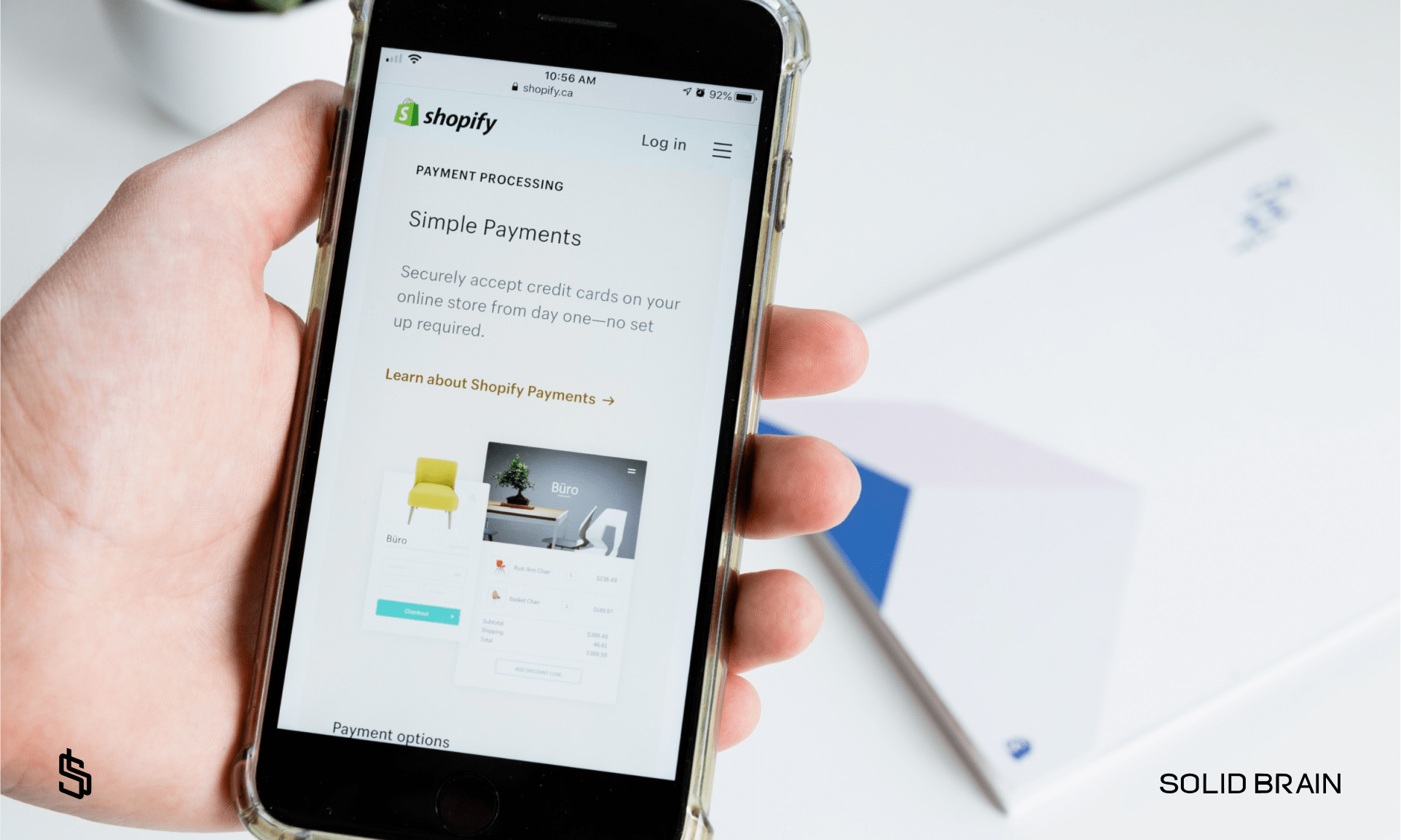 2. BigCommerce
BigCommerce is an amazing website builder that offers a plethora of features and unique tools for creating and managing your online business. Whether you're just starting out or looking to scale your business, BigCommerce has you covered.
With an extensive range of features, you have an opportunity to create an outstanding and personalized online store that aligns with your brand. Ready to stand out from other online retailers?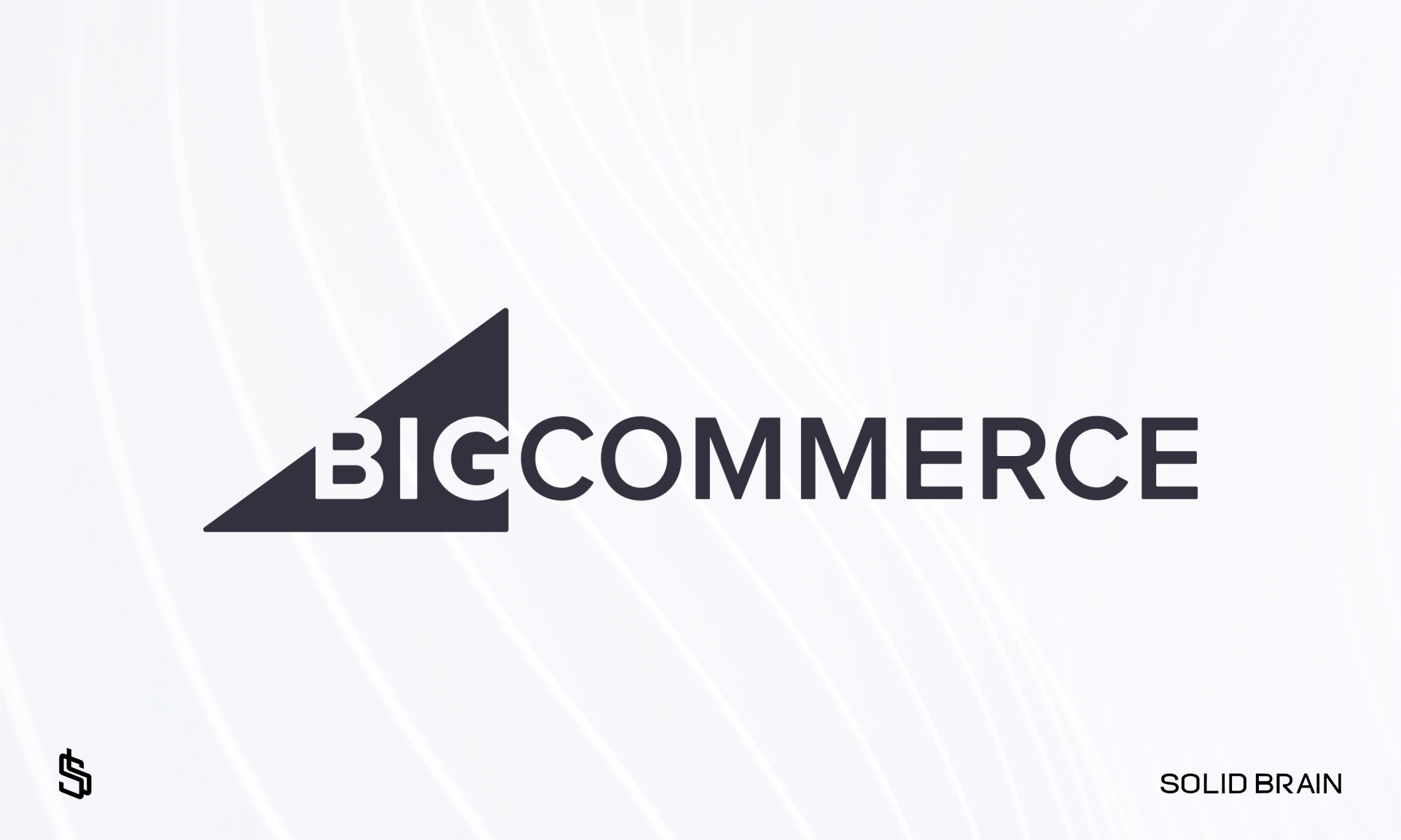 3. WooCommerce
WooCommerce is a game-changer for those looking to transform their WordPress website into a fully functional online store. This free plugin integrates with WordPress and provides you with a comprehensive suite of eCommerce functionalities.
It's versatile, user-friendly, easily customizable, and has lots of extensive capabilities.