Improve your web development capabilities and soar to new heights with our professional, reliable, and experienced dedicated software development team. Thanks to the years of experience and top-notch tools, we are ready to deal with any online project. Are you looking for a skillful outsource dedicated development team? Save your time and opt for
SolidBrain
! Get in touch with our customer service to discuss the details of the partnership.
Our Professionals Will Boost Your Business
A dedicated software development team model offers a great chance to hire professionals that will take care of your business and ensure the achievements of financial goals. They will provide top-quality services and deliver each project milestone on time. If you decide to partner with the SolidBrain team, you will get the following advantages:
First-Class Professionalism
You should work only with the experts that can deal with the most complicated tasks. SolidBrain will set up a team of specialists able to take care of your specific problems and deliver top-quality services. Your dedicated development team will be ready to start working as soon as you start a partnership with SolidBrain. Also, if it is necessary, our HR team will help you to find an expert to meet all your unique requirements.
Reasonable Price
SolidBrain offers an attractive dedicated software development team model, which will significantly save your time and money. We will come up with optimal rates and offer you to select hourly rates or fixed prices. Consider that hiring a dedicated development team is much cheaper than spending your funds and time to set up an in-house team.
Get Access to Talented IT Experts
Get in touch with SolidBrain to get the support of the best IT professionals from Eastern Europe. We will find the necessary number of members for your dedicated development team. Plus, you will be able to change the number of team players whenever you want. SolidBrain will check out the expertise level of each professional before they will be able to start working on your tasks. Our company will also admit the responsibility for the quality delivered by your dedicated software development team.
Reasons to Hire Dedicated Developers
It's impossible to run a successful business without the support provided by true experts Hire dedicated developers to boost your efficiency while saving your time and money.
Get Professional Assistance
Our company will provide you with access to a variety of skilled IT specialists. Each of them has years of hands-on experience and an impressive portfolio. We will select the professionals that will certainly deal with your tasks and problems. There are no reasons to wait or spend months training new employees. Get in touch with our company to set up a dedicated software development team and start the work on your online project as soon as possible.
Flawless Management
You will be able to control and manage your dedicated development team without any difficulties. It doesn't matter whether your company is located in Europe or the USA, because you will get the possibility to control the project's delivery with the help of 24/7 available customer support. Thus, you can always check out the workflow and make necessary changes whenever you want.
On-time Delivery
A reliable and professional dedicated software development team always deals with your tasks on time. Further, in case your offshore experts will need more time to deliver the project, they will inform you about it and incorporate the additional resources to finish the work faster.
Efficient IT Consultation
If you want to launch a successful online project but don't know where to start, our company can help you find the answer. We are ready to provide you with a free consultation, estimate your project's cost and come up with realistic milestones. Each stage will be analyzed by specialists, who can deal with the necessary tasks and provide you with the desired results.
Get Rid of Administrative Headache
Thanks to SolidBrain, there are no reasons to spend hours dealing with recruiting tasks and training your new employees. You don't need to worry about accounting, payroll, and local management – we will take care of your administrative headache. Just start a partnership with our company and our professional IT experts will start working on your project.
Focus on the Most Important Tasks
In case you don't need to launch a new project but just to support your website or software, it will be a good idea to opt for a dedicated development team, too. Our professionals will focus on the tasks related to your project's maintenance such as bug fixing or QA assurance. Thus, your own team will be able to work on the most important goals without the necessity to worry about other runtime processes.
Software Development
Our experts will help you to develop an attractive mobile or browser application. Due to the deep knowledge of JavaScript, PHP, Angular JS, Laravel, Magento2, JS, React, Bootstrap, Vue.js the SolidBrain team will provide you with the desired results. We can develop apps optimized for both iOS and Android users. Moreover, our specialists have hands-on experience in the creation of top-notch CRM, logistic, and management systems. Do you want us to deliver a unique project? Please, share its details with our team and we will start the work!
Web Development
"SolidBrain specializes in the development of attractive eCommerce stores, corporate websites, and landing pages. We use HTML5, Laravel, Yii 2, Magento 2, OpenCart, and WordPress to help our partners reach their business goals. Our team always pays attention to the development of every website and tries to design it with unique features and advanced functionality. The websites developed by SolidBrain can boast impressive performance and powerful software. After the free consultation, we will choose the best platform for your online project and start the work on it immediately. Also, we invite you to explore our article on
What is a discovery phase
to gain valuable insights into this crucial stage of project development."
UI/UX Design
We can create a website design, logo, or corporate style for you. Our web designers always follow the latest trends during the development and creation of the designs for our partners. SolidBrain keeps an eye on the newest web design tools to deliver only the best result. Each of our experts is skilled in Adobe Illustrator, Adobe Photoshop, and Axure RP.
The SolidBrain team will conduct special business research to find out the preferences of your target audience. We will analyze your competitors and come up with the best ideas for the adaptive design of your website.
QA Testing
Our company offers the best Quality Assurance engineers. They will check out the developed website or application to discover any bugs or errors. After our QA testing, your digital product will be 100% safe and ready to enter the market.
What we offer?
Experienced software engineers, QA professionals, PMs, and DevOps engineers to create and support your product
Fixed monthly budget
Participation in team members selection
Convenient and continuous communication with the team
Full control over team management.
You may be interested in our Services
Ready to get started?
Talk to us and let boosting your business right now!
Let's connect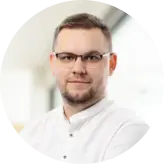 Mykola Dovhal
CEO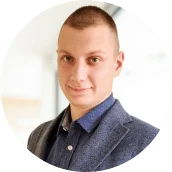 Vasyl Kuzyk
Head of BDM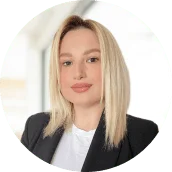 Khrystyna Oliiarnyk
BDM
Let's connect