"The website developed by SolidBrain helped our company increase the number of online customers and orders on a monthly basis. They quickly addressed all queries and fulfilled all tasks on time, avoiding any downtimes. Their robust communication and reliability in effective work approach were crucial to making the project a success."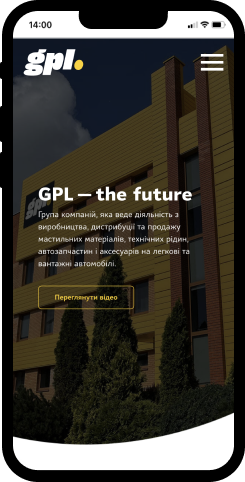 About project
Project duration
14 months
Challenges and Objectives
GPL supports different organizations providing technologies, additional tools, products, and assistance. Our company developed an Online GPL platform that helps to advance the client's internal processes. We focused on developing the solution with steady performance and user-friendly tools so that the GPL's customers could quickly place orders and communicate with GPL's managers. In this way, the SolidBrain team guaranteed an increase in the sales levels. Our experts also generated practical methods to realize stable communication with the users. In addition, this online platform enhanced shipping processes and decreased supply chain costs. That's what our developers achieved:
Our developers worked on a GPL's database capacity so it could contain over 1 500 000 goods
The SolidBrain team created the automobile parts search for a specific vehicle model to make it easier for the customers
We implemented continuous CI/CD integration
Looking for a team of professionals who could quickly develop a web platform, GPL chose SolidBrain digital experience professionals who met their requirements and supported sharing.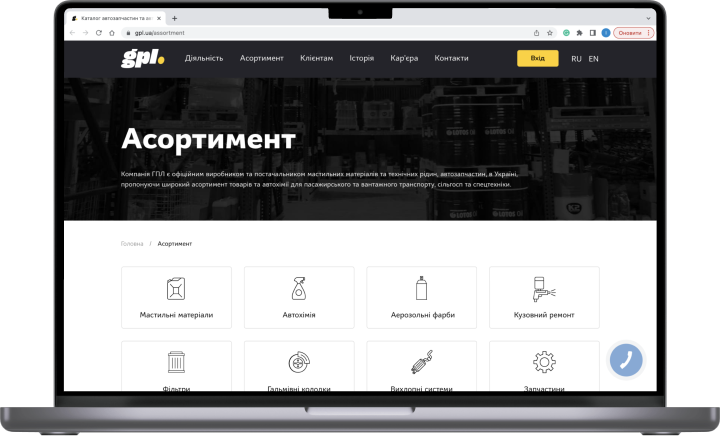 Solution
The SolidBrain web development team stuck to Vue.js and Laravel to generate the platform with a user-friendly UI. We aimed to simplify the search process for GPL's customers, focusing on its speed and effortlessness. Our engineers employed ElasticSearch to make it happen and provide the high-performing solution. Also, we turned to Laximo and TecDoc services to incorporate a custom system of automotive component selection. In this way, GPL can develop a personal online catalog.
Lumen framework came in handy when we needed to develop a robust database system. The SolidBrain developers created a database abstraction and integrated it into the platform. That's why Online GPL turned out to be a capacious system offering an extensive range of products.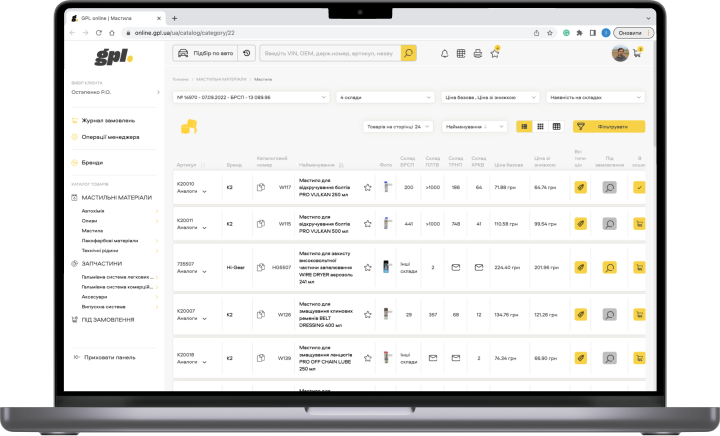 Business outcome
GPL B2B platform developed by SolidBrain provides clients with access to the range of products offered by the company. Thanks to the integration of Laximo and TecDoc services, the search process of the necessary automobile parts takes up to several seconds. The adjustment of ElasticSearch ensures that the system users get the most suitable results. The database integrated by our team accommodates more than 1 500 000 goods, meeting a wide variety of GPL clients' needs. Our team created an easy-to-use platform, making sure that the user experience was superior.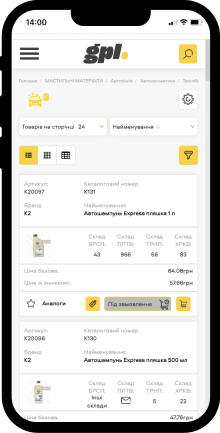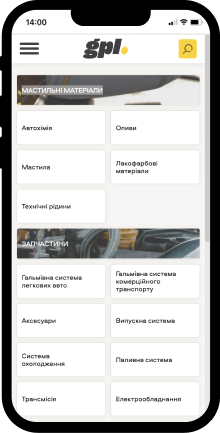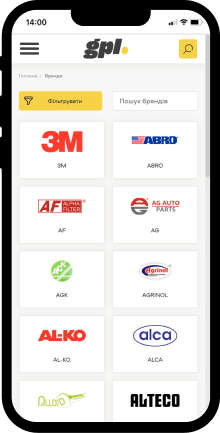 The value we delivered for GPL:
Their database gained bigger capacity to cover the wider range of their clients' requests.
The search engine we developed for GPL ensures accuracy and speed for the users.
The platform increased GPL's sales and income, attracting more clients with specific needs.
You may be interested in our Services