Does your business need an application to enhance customer experience and deliver better services? You're on the right path! If your business hasn't got a mobile app, you are missing quite a bit. We know that modern customers are looking for easy ways to cover their needs once any problem arises. That's why if you've already gained clients' loyalty, they are better off taking advantage of clicking on the application than searching for the needed item on the web. Here cross-platform desktop app development comes on stage.
Why do you need Cross-Platform App Dev?
Before the start, we encourage you to think about whether your business needs an app or it's just the desire that is not based on reliable information. If you're still hesitating, here is a short checklist of the situations when it's a good idea to stick to cross-platform app development services:
When you have a limited budget
When your application should have only basic features
When you need to create your application in a tight period
When you want to target people who use different operating systems
Do you have a match with any of these?
If it's so, considering such an app will be a good solution for your business needs. However, for the whole consultation and a more accurate choice, please
contact us
.
Full-service Cross-platform App Development Services
Are you ready to enter the mobile apps market? There are four main benefits you get using the help of a cross-platform app development company.
Reduced spendings
You save quite a lot when you take advantage of cross-platform application development. That's because of the two factors:
Firstly, this approach allows writing only one code and using it with all operating systems. You simply use the services of one team of developers that work on a single code.
Secondly, overall maintenance is easier and cheaper when you have a single codebase.
Fast launch
Thanks to the prebuilt UI components that some frameworks contain, the app creation process becomes faster than it could be if the design was created manually. Furthermore, hot reload is also supported by many frameworks. This feature enables developers to see the way the app works with no need to relaunch, just once they apply the code changes.
High level of user-experience
Native modules, third-party libraries, plugins – all these tools are available to enhance user experience. During the app creation process, specialists can also apply some native functions that will be created specifically for your app. That's why you can be sure that there won't be an unpleasant situation when everything is done according to an already-existing template.
Think that these services are beneficial only for startups?
Just take a look at the list of applications the mobile versions of which are created thanks to cross-platform app development services.
Facebook – was created using React Native;
Instagram – was created using React Native;
Skype – was created using Xamarin;
Airbnb – was created using React Native;
Walmart – was created using React Native.
We can't divide businesses into those that should use cross-platform app development and those who are better off looking for another alternative. Here we always encourage you to take a consultation before making the choice.
Our process of cross-platform phone app development
01
Plan creation
We make a clear plan that is based on our clients' requirements. There we cover the whole look and app features. Furthermore, our client will see how the goal is achieved till the deadline.
02
Framework choice
As soon as we understand that we will benefit from a cross-platform, it's high time to choose the right framework. Most often, specialists stick to using React Native, Flutter, or Xamarin. During our conversation, we'll tell you all the pros and cons of a specific system and will make a decision together with you based on reliable information.
03
Interface design
Thanks to the fact that the mentioned frameworks contain a lot of pre-built plans, the app design will be faster. It's important to note, that customization plays an important role for us at SolidBrain, that's why our developers won't just use the ready designs but will customize the app according to your requirements.
04
Features implementation
When the visual plot is ready, we come to the functionality core where we build the application logic, implement data storage, device-specific features, etc.
05
Testing
Even though building an app with the help of mobile app development cross-platform is easier and doesn't require many edits and rearrangements, we still need to take time to test whether there are any bugs. Once our team finds any problems, we apply the needed changes and do everything to optimize the performance.
06
Presenting the result
When everything is ready, we contact you to show you the final result and make edits, if they are necessary. Here we'll also discuss the app deployment strategy and what is the best way to enter the modern market. Please note that our help doesn't disappear as soon as we deliver you the result. During our conversation we'll discuss how our specialists will help you with the app, answering all your questions, and giving an excellent service.
Our Expertise in multi-platform app development
For SolidBrain it's important to see your results. That's why you can be sure that you won't be left alone once the solution is ready. You can always look through our
case studies
, and see the success stories of our customers. Using our services, you can be sure that your app will stand out from the crowd as we pay much attention to customizing the application and making the use both convenient and remarkable.
Contact us
to put a solid ground for your business together with SolidBrain!
FAQ
Every cross-platform tool has its pros and cons, so the choice should depend on your specific requirements. Most often, specialists tell you which system is better for your app, so consider contacting them first.
There are quite a lot of apps that are created thanks to cross-platforms. The most popular of them include Facebook, Instagram, Airbnb, Walmart, etc.
It's difficult to compare these two ways of app creation, as we should consider your needs first. Specialists often stick to cross-platforms when business owners have a limited budget for the app, want to create it fast, and don't need any special features, just the basic ones.
Yes, opting for this way of app creation might be beneficial for you if you want a cheap and fast solution with basic features.
You may be interested in our Services
Ready to get started?
Talk to us and let boosting your business right now!
Let's connect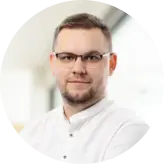 Mykola Dovhal
CEO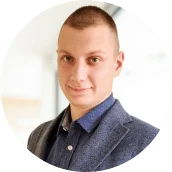 Vasyl Kuzyk
Head of BDM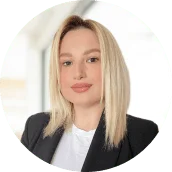 Khrystyna Oliiarnyk
BDM
Let's connect