What Is It All About?
Like most professional websites, SolidBrain uses cookies in order to improve your browsing experience. Thanks to these small files downloaded to your device, we gather crucial information and valuable insights intended to make the website work more efficiently and establish proper reporting. In the next paragraphs, we are going to highlight the following aspects:
what information we collect;
for what purposes we sometimes store the cookies;
how you can prevent these cookies from being stored.
In case you require more general information on cookies, you can read this article provided by Wikipedia.
Terms of Use
Please note that cookies are typically related to the core website's functionality and features, which is why there are no industry-standard alternatives for disabling cookies without affecting the website's performance. For this reason, it is highly recommended to leave on all cookies if:
you are not sure whether you require them or not;
cookies are necessary to deliver a service that you utilize.
Disabling Options
On average, there are several ways to disable cookies on the website:
go to your browser's settings and follow the "help" documentation to adjust the necessary limitations;
click the "reject" button directly on the website you are currently using.
On average, there are several ways to disable cookies on the website:
Types of Cookies We Use
At SolidBrain, we set the cookies related to:
email newsletters;
subscription details which enable certain notifications for subscribed/unsubscribed users;
registration forms;
future correspondence activities;
site preferences;
user-oriented content suggestions.
Third-Party Cookies
It is essential to note that sometimes it is necessary to apply cookies provided by reliable third-party vendors. The following list points which third-party cookies you might experience when browsing through our website:
being one of the most worldwide-known and trusted analytics tools, Google Analytics helps us understand how you interact with the website and, accordingly, how we can enhance your experience;
with Google Analytics, we track the wide array of activities, including the time you spend on a particular website page, the subsequence of pages you are visiting, the topics you are most interested in, etc.;
for more info concerning Google Analytics policies, visit their official page;
guided by meaningful insights provided by Google Analytics, we gain an opportunity to produce more engaging and client-oriented content;
equipped with crucial data like the number of visitors, their unique preferences, and purchase history, we can accurately make predictions concerning the products/services you can potentially buy;
well-established analytical activities and customized cookie policies allow us to optimize the costs we spend on digital advertising.
Additional Info
Hopefully, the above-described cookie policy helps you clarify which activities we monitor, how we utilize the data we gather, and how the rejection of cookies might influence the website's performance and our business strategy at all.
Ultimately, it is much safer to leave cookies enabled in order to get the best browsing experience possible and ensure all vital aspects are kept within the scope of your attention.
If you still have any questions or suggestions, please do not hesitate to contact us. We are always delighted to hear from you.
Ready to get started?
Talk to us and let boosting your business right now!
Let's connect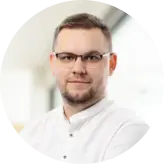 Mykola Dovhal
CEO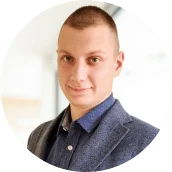 Vasyl Kuzyk
Head of BDM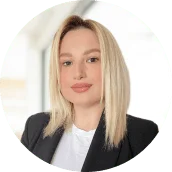 Khrystyna Oliiarnyk
BDM
Let's connect