SolidBrain
can take care of your project and support you during each stage of its development cycle. Our experts can discuss your idea, come up with a prototype, test the product, and provide you with a top-quality ready-to-use product. Moreover, we can ensure the professional maintenance of your project after its delivery.
Full Cycle Software Development Stages
In case you opt for our full-cycle product development services, you will get a chance to develop your project in order to meet the growth of your customer's requirements. We will find the best experts, who have enough experience to implement your ideas. The work on your project will be divided into several stages:
Creation of the Prototype
A prototype will help you estimate the prospect of your project without spending a lot of money and resources. Our team will analyse your ideas and business goals to come up with the most cost-efficient solution. In case you are satisfied with the received result, we will move to the next stage.
Product-Market Fit
The main aim of our full-cycle software development services is to make sure that you will get a digital product that will satisfy your target audience. Thus, we will explore your clients' preferences, test the product several times to discover the errors, add new features, and provide it with an attractive design.
Launch of the Product
Our experts will take control over your project's launch and scale its success. They will also help you manage the delivered product and come up with ideas for future improvements.
Product Maintenance
For eCommerce software development, our specialists will use the newest security methods to make sure your clients' funds and personal data are protected. Your eCommerce website will withstand dangerous cyber-attacks and fraudsters' tricks thanks to SSL encryption, two-factor authentication, and HTTPS protocols. No doubt, the best way to get loyal clients is to ensure their safety.
Integrate third-party systems
We can take care of the project's administrative tasks providing your team with a chance to focus only on the most important business goals. You will be able to manage our professionals due to the friendly 24/7 customer support provided by our company.
Reasons to Choose Full Cycle Software Development Services
The development of a new digital product is always related to the possible risk. Luckily, SolidBrain can make sure that nothing will prevent your project from successful development and delivery:
We will take full responsibility for your product's development. You have just to provide us with your desires and ideas.
We will build a team to meet the specific requirements of your project. Forget about hiring and training new experts to deal with every stage of software development. SolidBrain has professionals ready to start the work on your product right now.
We offer efficient solutions at fair prices. If you opt for the SolidBrain services, you always get only the most useful ways to implement your ideas.
Product Development Services for Any Industry
SolidBrain is a leading provider of innovative software solutions and services. With a track record of over 40 successful projects across diverse industries including Automotive, Travel, eCommerce, B2B services, and more, we're committed to excellence and client satisfaction. Our expertise extends to:
You may be interested in our Services
Ready to get started?
Talk to us and let boosting your business right now!
Let's connect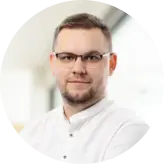 Mykola Dovhal
CEO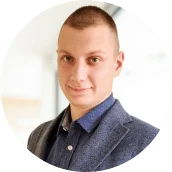 Vasyl Kuzyk
Head of BDM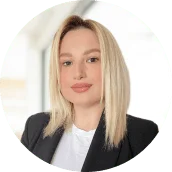 Khrystyna Oliiarnyk
BDM
Let's connect