Car services, trucking, and logistics seem to be top industries for investing your money. However, they are supposed to be complicated in terms of entering and staying. That's mainly because of the risks that this industry has which include auto thefts, fines, refusals to pay, and costly repairs. And in this tricky market survive only those car businesses that apart from the autos also invest in safeness and use modern operation instruments, one of which is GPS fleet vehicle tracking. Being a risk-proof control complex it is used for observing vehicle activities, real-time location, fuel consumption, etc. This tool is mostly popular for its convenience and capability of showing tiny problems. Thanks to GPS tracking for fleet vehicles you are likely to take up the needed solutions once a difficult pinpoint is identified.
A Complete GPS Fleet Tracking Solution
SolidBrain provides complete vehicle tracker solutions and helps car businesses manage overall car productivity. After the implementation of fleet tracking GPS, your fleet managers will be able to receive constant information, analyze it and solve any problems that arise. Vehicle fleet GPS tracking uses accurate loT sensors for getting the needed information on the transport in use. These radars keep track of car maintenance and productivity. Knowing it empowers you to meet high customers' needs by providing required GPS fleet management solutions.
Automotive eCommerce Platform for the Auto Parts Industry
Auto loans
Car financing
Car dealers
High-risk auto deals
Taxi services
If on a day to day basis you work with one of these things, investing in fleet vehicle GPS tracking might be a good option that will pay dividends in the long run.
The Fleet Tracking Solution Features
But during the utilization, you will discover even more advantages. The main ones that our clients usually mention are:
Improving your route planning
Thanks to fleet tracking services drivers can accurately plan their routes. Moreover, operators can control vehicle drivers using sensors and recommend alternatives based on given traffic jams or accidents. As a result, it will make the cooperation process more productive and bring you more satisfied clients.
Gaining customers' loyalty
Once you apply the fleet GPS tracking system you will enable your customers to gain real-time information and know the exact time when their goods will be shipped. Moreover, professional truck GPS tracking systems allow users to send notifications and can inform their customers about some delays or delivery difficulties.
Boosting fleet and drivers' security
Not only can operators follow the road and provide the safest and fastest solution, but also see secure places to stop. The thing is, during the long car journey drivers get tired that leads to some mistakes due to inattention. For example, being worn out it is easy to pass a road sign or turn the wrong way, isn't it? That's why it's always better to provide the drivers with a safe rest point. And GPS for fleet management is a perfect tool to do so.
Saving your costs
After applying GPS for fleet management you will also notice that you are spending less money on fuel and vehicle maintenance. It's an investment that comes back in no time. You will be amazed at how much you will save thanks to monitoring your vehicles. Fleet truck GPS tracking cuts your expenses not only by choosing the best route but also by keeping an eye on car maintenance. SolidBrain is ready to supply you with an advanced tracking system that has additional inbuilt features that diagnose the vehicle. It will allow you to control the overall car health and find solutions at the very beginning of a possible problem.
When it comes to benefits, they won't take long and might be seen already after the first month of using GPS in vehicle fleet tracking. Statistically speaking, the benefits for businesses include:
Fuel consumption cut by 20%
Decrease in the amount of money spent on engine idle by 60%
Fewer safety incidents by 20%
Decrease in driving hours by 20
Technologies that we use for the development of fleet tracking GPS
There are a few systems that can provide you with a GPS tracker fleet management. However, our SolidBrain team got used to offering our clients top-quality solutions. That's why depending on your needs and requests we use such technologies as Google Maps, OpenLayers and Mappedin. They are considered to be the most convenient GPS fleet management softwares due to the wide range of solutions that they have.

The point is, most GPS providers are specialized in one specific thing whether it is route planning or car performance analysis. But our solutions in their turn include more features that will enable you to manage your vehicles professionally.
Explore fleet solutions by industry
Our SolidBrain team is ready to provide you with quality vehicle-tracking solutions. During our cooperation, we use modern technologies to help our clients achieve maximum results. Together with SolidBrain, you will:
– improve your vehicle management system;
– be able to notify your clients of delivery time;
– cut your spending on fuel and car maintenance;
– boost your vehicle productivity.
Take a look at our
portfolio
. There you will find success stories of those who have already taken the opportunity of GPS tracking. So
contact us
and supply your business with a modern handling tool!
FAQ
It is a modern vehicle management tool used for accurate road planning, and car activity monitoring.
GPS tracker fleet vehicles are used in all industries that provide shipping services. It's an integral part of the next fields:
Auto loans;
Car financing;
Car dealers;
High-risk auto deals;
Taxi services.
Google Maps is considered to be the software that provides the widest range of features for car services. It allows you to keep your eye on the car track, plan better roads, and monitor the vehicle's condition.
Thanks to accurate loT sensors the information on autos is constantly renewed. The used software also notifies you of a car's maintenance and whether it needs a checkup. For seeing the received information you can use a matched application.
Firstly, a special tracking device is put into the car. Owing to it all sorts of information is gathered and saved. This tool uses GPS real-time data gathering and transmits it to your device in no time.
Oftentimes vehicle business owners come to use this tool when they want to:
keep track of the car and get real-time updates on its location and maintenance;
boost vehicles' productivity;
safe money on maintenance and fuel;
get clients' loyalty.
You may be interested in our Services
Ready to get started?
Talk to us and let boosting your business right now!
Let's connect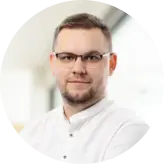 Mykola Dovhal
CEO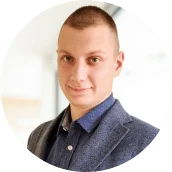 Vasyl Kuzyk
Head of BDM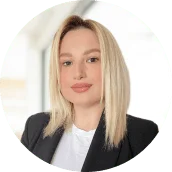 Khrystyna Oliiarnyk
BDM
Let's connect