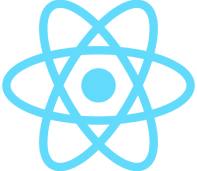 React.js Development Services
Our React.js development company is a recognized leader in delivering superior solutions. Hire React.js developers today to ensure your success tomorrow.
Let's talk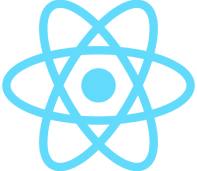 React.js Development Services
Create next-gen user interfaces, build stunning web solutions, and get the most out of this front-end JavaScript library with our best-in-class React.js development services.
The Experts in React.js Development
In a rush to win competitive advantage, both small to midsize entities (SMEs) and large corporations are looking for reliable React.js development companies with long-term experience and proven expertise. Yet, with such a wide array of providers in the market, finding a trustworthy company turns into an absolute nightmare. Luckily, the choice is pretty simple when it comes to SolidBrain. Ensuring maintainability and top-notch performance of each React-powered solution we deliver, our company always meets clients' requirements. Leveraging the latest technology trends and best industry practices, our React.js development team helps companies to build cutting-edge user interfaces and promote the usage of UI elements.

Are you still looking for a dedicated React development partner?
Then, we will help you get rid of the pangs related to this complicated choice. So read on, explore our React.js development services, choose what suits you best, and let us build your next market-leading solution together.
React.js Development Services We Provide
From web & mobile applications to complex ERP solutions, our skilled React.js developers are capable of meeting all your business requirements in an easy and efficient manner.
React.js Development from Scratch
Do you have a unique business idea in mind? Thanks to our custom React.js development services, we can bring even the craziest product concepts to life. Being passionate about building awe-inspiring solutions from scratch, our experts will equip your solutions with all the needed functionality per your request.
React.js Migration
If your current solution does not fit your business requirements, we can easily overcome this challenge by implementing new React.js technology. Due to our seamless React.js migration services, we will solve your problem in a blink of an eye, eliminating the need to build a costly and time-consuming solution from scratch.
Refactoring the Code on React.js
While unnecessary code components may cause bugs, poor quality outputs, and technical debt, refactoring the code on React will help you prevent these adverse issues without changing the code's external behavior. Our React.js developers possess profound knowledge in refactoring all the existing code, so we guarantee quality results at a reasonable price.
Single-Page Apps React.js Development
An interactive app that automatically updates its content without the necessity to reload the page? With our single-page apps React development services, it is even more real than you might think. Our expert team can provide a functional back-end part responsible for real-time updates on the visible page of your application.
Web Apps React.js Development
Great user interfaces, custom components, and high performance — these and many more beneficial components are an inseparable part of React.js web applications delivered by SolidBrain. Moreover, by utilizing the Document Object Model (DOM), our React engineers build highly interactive web solutions without sacrificing performance.
Maintenance and Support
There is no doubt that timely updates are of paramount importance when it comes to the long-lasting success of your solutions. For this reason, we always put an emphasis on establishing ongoing maintenance and support services in order to empower your apps with leading-edge upgrades.
How is Our React.js Development Company Different?
Our uniqueness is our greatest strength, and here is why.

It may be challenging to find a gem in the crowd of copies. The same implies finding a trustworthy React.js development company in the modern oversaturated business ecosystem. With thousands of similar development providers, business owners often feel frustrated when choosing the very one.

Fortunately, our exceptional client-centric approach definitely makes us stand out from the crowd. Unlike most modern companies, we do not perceive technology as our primary goal. At SolidBrain, we transform technologies into powerful tools to help you reach your business goals and, ultimately, build the tech-powered society of the coming day.
React.JS Development Services in Various Industries
Remaining one of the most popular technologies of the 21st-century IT world, React-powered solutions can be found in a multitude of various industries.

Did you know that different industry giants such as Netflix, Uber, Facebook, and Meta were created with the use of React.js? It may shock you but React is utilized in nearly all modern industries. From eCommerce solutions to healthcare apps, developers use React.js in diversified industry verticals to ensure aesthetically pleasing and highly interactive user experiences. Nowadays, businesses turn to this popular JavaScript library because of its scalable, fast, and easy-to-use nature.

Do you want to gain a competitive edge in your industry? Then, request a free quote and explore how React can boost your company and bring your business performance to an entirely new level.
Why Clients Hire Our React.JS Developers
The unique mesh of deep expertise and a future-oriented approach helps the SolidBrain team establish long-term cooperation with the clients.

Dedicated Teams
Need more resources for your project? With SolidBrain, it is not a problem but rather a promising opportunity. We offer a vast talent pool of remote specialists that are ready to meet your unique organizational and functional requirements.

Agile Development
Applying Agile Scrum methodology in the majority of our projects, we ensure proper communication inside and outside the team, establish a flawless development process, and consistently deliver high-quality results within the expected time frame.

Innovations
While modern technologies undergo multiple changes and upgrades, we also do not stand still. In this regard, we combine theoretical knowledge with the best practical approaches to continuously improve our skills and enrich new projects with out-of-the-box innovations.

Growth
With more and more amazing clients in place, the SolidBrain team rapidly grows and develops. We engage passionate, open-minded professionals eager to find creative solutions to complex tasks to inspire our clients with innovative ideas and unique development strategies.
FAQ
Even though React is typically associated with building web solutions, this stunning JavaScript library is not limited by such projects. In fact, it may also be utilized to create:
interactive user interfaces;
mobile apps;
web apps;
SPAs;
TV apps;
UI components.
According to Upwork, it typically costs from $15 to $150 an hour to hire ReactJS developers. Nevertheless, it is essential to remember that the cost may depend on different factors, for instance, years of experience, cooperation model, country, etc. Contact us to get a free project estimate from SolidBrain experts.
Notably, everything depends on the ReactJS developer you hire. For example, if you are about to hire an in-house expert, you can offer them a test task or request a detailed portfolio. Still, suppose you are going to work with dedicated React.js developers provided by a reliable React development company like SolidBrain. In that case, you should not worry about the expertise of the team because we hire only best-in-class experts.
Case Studies
SolidBrain has already successfully finished over 40 international and local online projects. Do you still have any doubts? You are welcome to check out our portfolio.
See all projects
You may be interested in our Services
Ready to get started?
Talk to us and let boosting your business right now!
Let's connect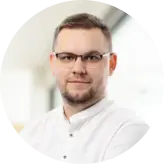 Mykola Dovhal
CEO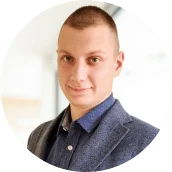 Vasyl Kuzyk
Head of BDM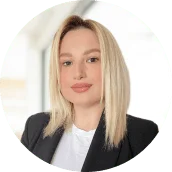 Khrystyna Oliiarnyk
BDM
Let's connect